Relationship with God
Relationship with God - A Failed Relationship
Do you have a relationship with God? If so, what is that relationship based upon? In an attempt to explain his relationship with God, man often relies on religion to define his degree of spirituality. Emotions, traditions, and logic play integral parts in formulating his religion. Definitions of morality and immortality based on popular beliefs entangle themselves into the tapestry of his religious cloak.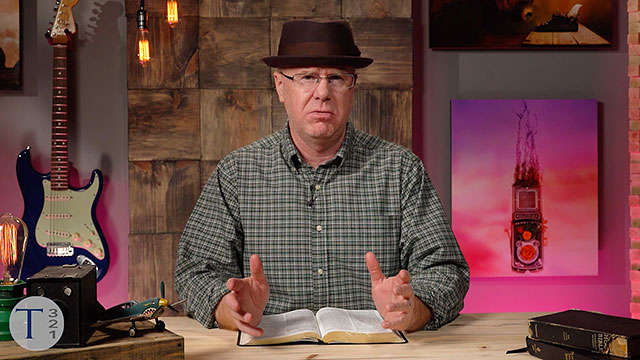 Religion leans heavily upon man's righteous efforts. It often requires diligent service and works, in expectation of earning an eternal reward. Through each person's power of self-motivation, self-control, and self-determination, salvation is hoped for. Inevitably, any shortcomings on the part of the individual result in disappointment, chronic guilt, and ultimately an unfulfilled relationship with God.
"Lots of religious people hold firmly to all kinds of religious ideas—whether right or wrong—for all kinds of weak and apparently unfounded, or at least unexamined reasons."
1
Unlike religion, a relationship with God comes from His amazing love and grace reaching out to us. It's always been God's desire to reveal Himself to us since creation (Romans 1:20). Adam and Eve "heard the sound of the Lord God as he [God] was walking in the garden [of Eden] in the cool of the day" (Genesis 3:8). In the beginning, God desired an everlasting, loving relationship with man. Adam was made in God's image then chosen to wisely manage "everything that [had] the breath of life in it." We were designed for relationships. Therefore, God provided Eve as a companion so Adam could experience an intimate union. But Adam chose to reject and disobey God's command, producing sin which separated mankind from God (Romans 5:12). Sin brought the breakdown of a relationship with God, resulting in shame and judgment.
Relationship with God - A Restored Relationship
Religion cannot restore our relationship with God again. No human ritual, deed, or sacrifice can provide payment or absolution for our sins. Not a single human being by his own efforts is able to measure up to the glory of God. God's glory is His splendor, the outward display of His attributes. God desires that we share that splendor, yet our sin prohibits us from experiencing the richness of such a relationship. We might ask, "Why does an omnipotent and supreme God long for a relationship with imperfect, fallen human beings?"
God chooses us for a special purpose before creation (Ephesians 1:4-5). What God began in the past, He will accomplish and complete in the future. It is His purpose, through His Son Jesus Christ, to make us blameless, without a single blemish.
God considers us children of a Heavenly Father (2 Corinthians 6:18). When redeemed, we are again sealed into a special relationship with God. While sin can enslave us to the point of fear, believers in Jesus are adopted, receiving the same privileges as natural-born. Christians can approach God through an intimate relationship, even calling Him Father (Romans 8:16).
God values us as precious treasures, capable of honoring Him with our bodies and spirits. We were bought with a special price—"the precious blood of Jesus Christ" (1 Peter 1:19).
It is God's will to save us, establishing an everlasting relationship with Him. Jesus Christ's voluntary death on the cross provided delivering power, redeeming us. The divine purpose for Christ's sacrificial death and resurrection from the grave was man's restoration and reconciliation, bringing life through the Holy Spirit (1 Peter 3:18).
A Personal Relationship with God
Picture the relationship that Jesus shared with His Heavenly Father. Jesus was the only begotten Son of the Father. The relationship the two shared while Jesus was on earth was unparalleled (John 1:14; 6:46; 1 John 4:9). Through Jesus Christ, we experience God's presence, strengthening our relationship:
Love – "But God demonstrates his own love for us in this: While we were still sinners, Christ died for us" (Romans 5:8).
Sacrifice – "...But if anybody does sin, we have one who speaks to the Father in our defense—Jesus Christ, the Righteous One. He is the atoning sacrifice for our sins, and not only for ours but also for the sins of the whole world" (1 John 2:1–2).
Faithfulness – "God, who has called you into fellowship with his Son Jesus Christ our Lord, is faithful" (1 Corinthians 1:9).
Mercy – "...For all have sinned and fall short of the glory of God, and are justified freely by his grace through the redemption that came by Jesus Christ" (Romans 3:23–24).
Peace – "And the peace of God, which transcends all understanding, will guard your hearts and minds in Christ Jesus" (Philippians 4:7).
Joy – "...We have peace with God through our Lord Jesus Christ...and we rejoice in the hope of the glory of God" (Romans 5:1–2).
Eternity – "I [Jesus] give them eternal life, and they shall never perish...My Father, who has given them to me, is greater than all, no one can snatch them out of my Father's hand. I and the Father are one" (John 10:28–30).
A personal relationship with God begins with knowing His Son Jesus Christ. Our earthly relationships change. You and I are destined for change. But Jesus is changeless. He is the same yesterday, today, and forever. When you draw near to Jesus Christ, you will be changed.
Learn More!
1 Mittelberg, Mark, Choosing Your Faith, Tyndale House Publishers, Inc., Carol Stream, IL, 2008, p. 14.
WHAT DO YOU THINK?
- We have all
sinned
and deserve God's judgment.
God
, the Father, sent His only Son to satisfy that judgment for those who believe in Him.
Jesus
, the creator and eternal Son of God, who lived a sinless life, loves us so much that He
died
for our sins, taking the punishment that we deserve, was
buried
, and
rose from the dead
according to the
Bible
. If you truly believe and trust this in your heart, receiving Jesus alone as your
Savior
, declaring, "
Jesus is Lord
," you will be saved from
judgment
and spend eternity with God in heaven.
What is your response?
Yes, today I am deciding to follow Jesus
Yes, I am already a follower of Jesus
I still have questions

AllAboutGOD.com Videos
There are hundreds of videos right here on AllAboutGOD.com covering many of the topic pages on the site.
Watch Here